How The Imperial Hotel Eumundi prepares for functions successfully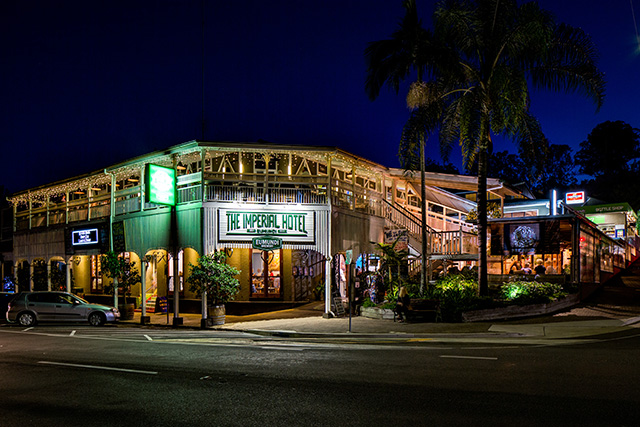 16/06/2022
The Imperial Hotel has been around for over 111 years as a cornerstone hotel of Eumundi's history and the Sunshine Coast region. The original owners could not imagine the institution this establishment would become. It not only houses a large Queenslander pub featuring a beer garden but also the Eumundi Brewery, Eumundi Distillers, beautiful function rooms and a boutique hotel steeped in art created by over 80 local artists. It has become a popular go-to destination on the Sunshine Coast for great food, live music, events, festivals, and specially crafted beer with a strong community bond.
Moco Food Services sat down with Hotel Manager Paul Thomas and Head Chef Cale Dempsey to learn more about this foodie jewel in the region's proverbial crown.
A Tourist Destination
The Sunshine Coast is a beacon for tourism and day trip visitors with many restaurants and attractions to enjoy. So, what is it that attracts visitors to The Imperial Hotel? Paul explains, "The venue itself is unique. I think you'd struggle to find something like it in Queensland and Australia." Cale nods in agreement, "They've heard about the drinks. The drinks are different, and you can't buy them anywhere else." Cale is referring to the popular Eumundi Brewery, which produces its beers on-site and runs tours.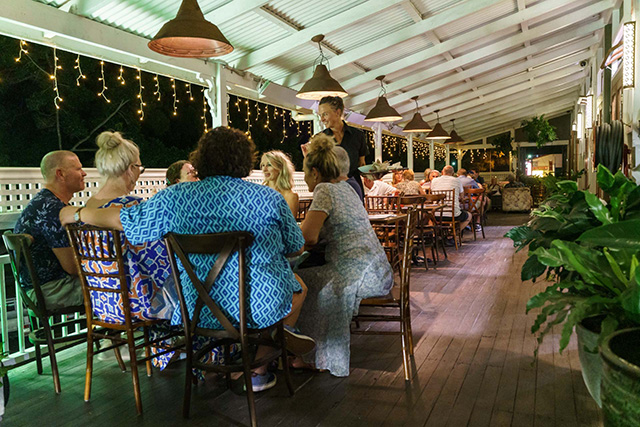 Diners enjoying the verandah at The Imperial Hotel.
According to Paul, tourist numbers have slowly started to pick up after the New South Wales school holidays in April, which was as busy as the previous Christmas period. "Accommodation numbers on the Sunny Coast in that period were around 80%, which would have normally been around 90, but still pretty good."
"We are a tourist spot almost in a way, you know, like the Big Pineapple. We have live music, and I know it sounds crazy, but there's no gambling here. And there's not many venues that survive on food and beverage," adds Cale.
Catering to the Masses
For such a large venue to survive on food and beverage, Cale as Head Chef provides a menu that caters well to the masses, ensuring they keep coming back. He has been a chef for over 22 years and initially trained in Italian cuisine before expanding into Spanish, Japanese, Cambodian, American, English, and more. "Obviously with Australian cooking, you got to know all of it. Every restaurant serves some item of something from around the world. You've got to know your stuff these days. There's no limit," Cale explains.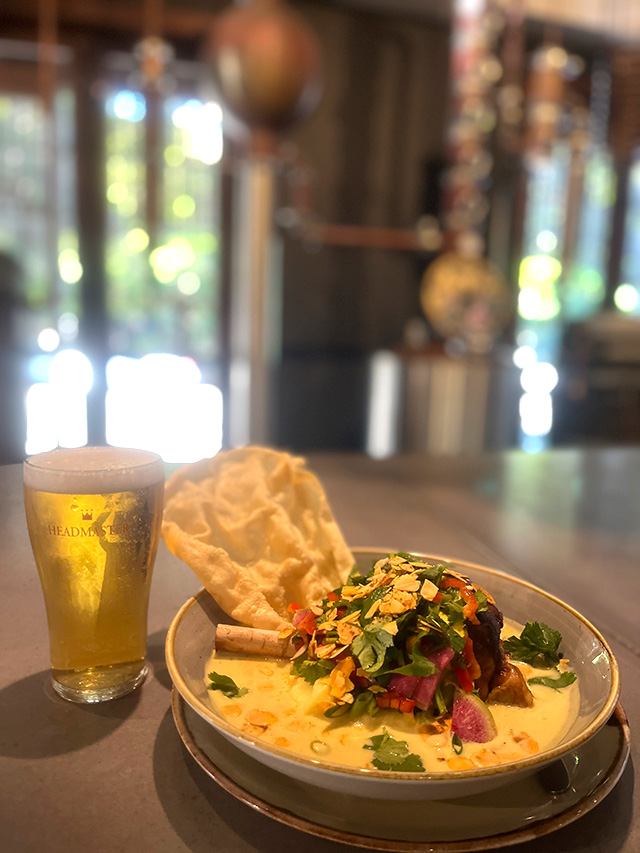 Yellow Curry Lamb Shank on Potato Mash served with Dukkah Dutch Carrots, Saffron Yoghurt, Spiced Almonds, Chilli, Coriander, Mint, and Poppadom, served with a Eumundi Lager.
With so many dishes from around the world, menu inspiration can come from anywhere, but there's no place like home. "We have two small children at the moment. So, you end up cooking a lot at home, trying things, and I think that's where the passion comes from. You start playing around with these ingredients, mixing them up, seeing how you can tweak them and make them better."
Childhood is another place to draw ideas from, as Cale remembers his dad cooking Sunday roast every week. "That's one of the things I remember from my childhood. When you become an adult, you make it for your family and your friends, and then you start making them in a way where it's fashionable."
Functions and Festivals
With the second half of the year approaching, function season is slowly starting back up. The Imperial Hotel provides four menu options for their functions – Canapes, Substantial Canapes, Kinsfolk Dining, Alternate Drop and Something Extra. Cale explains that these menu options are closely tied to the customer's needs including dietary requirements. "I think in this day and age where many things are going on between vegans, vegetarians and coeliacs, you have to cater, otherwise, you're going to get left behind," explains Cale.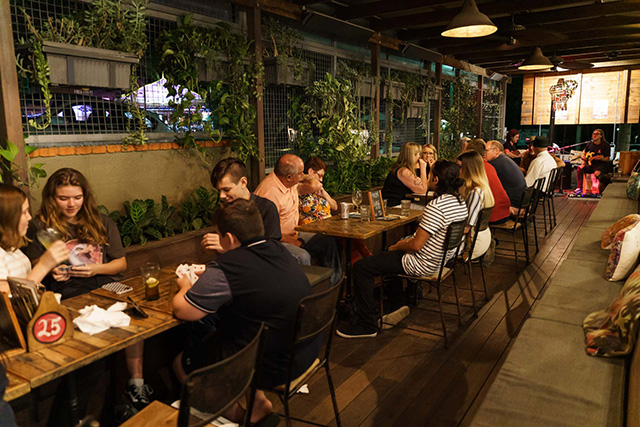 Patrons enjoying live music.

How do you create a menu that caters for everyone and takes on current food trends? "Vegetarianism is coming in as it is a better alternative. People are looking at affordable options, and that's how you have to develop your menus. " From there, Cale develops his menu by balancing light and heavy meals with as many protein, vegetarian, and vegan options as possible. He believes that a wide menu range using versatile ingredients is the key to success with diners and reduces wastage.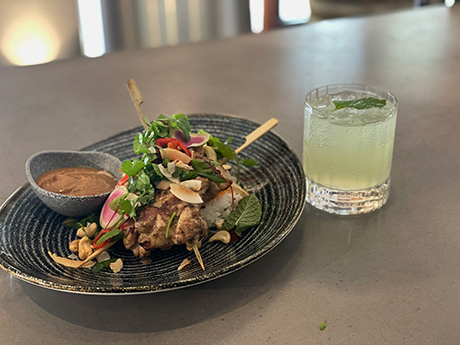 Chicken Satay Skewers served with Kaffir Lime Rice, Mint, Chilli, Coriander, Radish & Cashews, served with Folktale Kaffir Lime Gin and Eumundi Ginger Beer.
When it comes to Christmas, things are a bit different to most pub venues. The Imperial Hotel is shut for the Christmas holiday period and runs a New Year's Eve event that is normally capped at 400 guests. Christmas functions are often booked by repeat visitors, with Cale delivering all the traditional Christmas trimmings to their tables.
In terms of events, there are live music gigs that happen all year round. A festival is also on the horizon, the Hinterland Craft Beer Festival on Saturday 25th June, where local breweries and food trucks gather in the carpark for attendees to sample and enjoy. "Yeah, the festival is just one way we give back to the community," says Paul.
Adapting to Change and Moving Forward
Both Paul and Cale confess that they love how ever-changing the hospitality industry is. The hotel has obviously gone through several changes over its lifetime and continues to do so. Recently, the venue has implemented online bookings and ordering. Shared meals have also become a popular mainstay on the menu, as they work well with beer tastings and make life easier for diners interested in a light meal.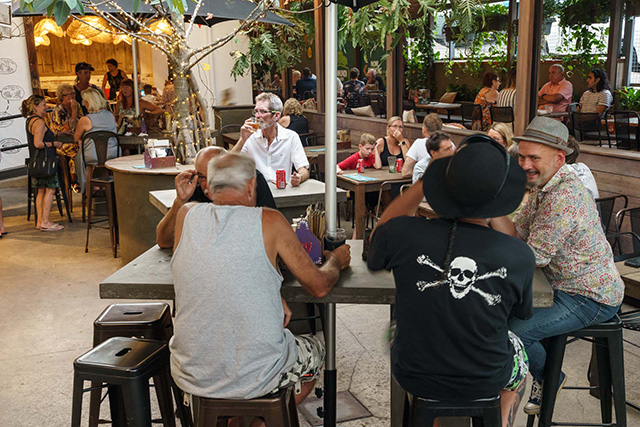 Patrons enjoying the Beer Garden.
The Eumundi region continues to grow with many interstate people and retirees choosing the location as their new home, which has kept The Imperial Hotel busy even with competition coming to town. Renovations are underway at a fellow local pub as more restaurants move in. Paul's philosophy: "It's competition but also healthy because they're offering another option, which brings people around." Cale adds, "That's the thing you want. Eumundi is bound to do well; you don't want to be the only place that does well in the town. It's about the whole street pumping with everyone in all the restaurants." Such an attitude reflects The Imperial Hotel's community spirit, proving that's quite possibly the key ingredient to its success in the past, present and future.
All images have been provided by and used with the permission of The Imperial Hotel Eumundi.
With over 6000 products available for chefs to choose from, Moco stocks quality ingredients to cater to your function needs. Learn more about Moco's online ordering platform here.