E-commerce Content Manager
To help with our rapidly growing Ecommerce business we are looking for an experienced and capable Ecommerce Content Manager to take ownership of our online channels. We are constantly looking to improve our user experience through designing and implementing new content strategies and processes.
A highly motivated person who is both strategic and hands on. You'll be passionate about the eCommerce sector and highly attuned to the industry. You must have strong communications skills and be able to manage external partners, always ensuring the best possible outcome for the business.
This is an analytical role that needs a high level of attention to details and commercial nous. You don't have to know everything, nor every system inside out and backwards. But you must be hungry to acquire knowledge and constantly improve your skills.
The ideal candidate will excel at creating an exceptional customer experience in the Ecommerce platform. The Ecommerce Content Manager is responsible for the delivery of all aspects of our content strategy across our online channels.
You will be responsible for:
Develop and lead the organisation's e-commerce strategies, with the aim of increasing traffic, driving customer engagement and conversion online.
Creating, maintaining and improving content for our online channels that is tailored for our customer base
Editing, proof reading and improving pre existing content
Managing the workflow of new products going online in a timely manner and in line with key marketing promotions
Optimizing content according to SEO best practice
Producing and promoting web content
Monitoring web traffic and metrics to identify content best practices, customer engagement, brand consistency and a positive customer experience
Stay up to date with Ecommerce developments and generate new ideas to further engage and grow our online platform audience
Day-to-day management of websites including products, content, promotions, and merchandising.
Keep up to date with industry trends and emerging technology to identify opportunities to grow the eCommerce channel and drive online sales performance
To be successful in this role you will possess the following skills:
Fantastic written and verbal communication skills
Be a self-starter with an innate desire to drive growth and improvement
A positive, collaborative and solutions focused attitude
Creative, organized and highly analytical
For more information and to apply for the role emai: RPearson@mocofoodservices.com.au
Sales Executive
Our customers get a partner, a supporter and great customer service – not just another supplier. That's the secret behind our growth.
A typical day in your territory will require you to:
Manage and maintain a territory full of great food businesses
Be urgent in managing customer needs and setting expectations
Conduct market analysis and interpret reports using best of breed technology
Retain and grow the business
The ideal candidate will have a strong history of sales experience within the food industry. What's more critical is your match with living our company values. In such a highly competitive marketplace, we're looking for someone who stands out, which means you must have:
Energy and drive to provide exceptional customer service
The personality to make a good impression and build relationships based on trust
Commercial acumen to know how to make a good deal
A genuine interest in people and their businesses
A strong sense of integrity and collaboration
For more information and to apply for the role emai: RPearson@mocofoodservices.com.au
Production Manager
We specialise in the supply of portion control and whole meat products to all sectors of the catering and restaurant industry.
A vacancy currently exists in our business for an experienced Senior Production Supervisor/Manager.
The successful candidate will be passionate about protein and have a focus on product presentation and quality.
You will have a drive for reviewing and improving process and have a passion for developing the skills and expertise of your team.
You will be a collaborative leader of the team and will have authentic relationships across our business.
For you to be successful you will require meat industry knowledge and possess the following attributes:
Proven manufacturing experience, in meat processing/portion control and food manufacturing
Leadership and development of a high performing team
Production planning and yield analysis
Strong work ethic, eye for detail and quality focus
Clear decision-making skills.
Lead by example
High level of presentation and communication skills
Computer skills
For more information and to apply for the role, emai: RPearson@mocofoodservices.com.au
Business Development Manager
Expertise, speed and agility are key to seeing your career soar.
You understand what good business looks like. You are a people person, ready to build high quality relationships very fast and take them into the virtual world. You are always on the hunt for like-minded restaurants, pubs, clubs, cafes and caterers ready for more convenience from a food service distributor that is very different to the rest.
You love the fact that your results do your talking.
Discover a different side of the buzzing food, beverage and hospitality industry. Where new products and innovation are at the heart of every day and where you can offer solutions that genuinely make kitchens run more efficiently.
A typical day will require you to:
Identify new customers and work with them quickly and maybe even remotely to show how MOCO can help them run a better business
Develop a strong pipeline of prospects that fit a criterea
Be urgent in managing prospects, developing leads and closing sales
Conduct market analysis and interpret reports
For more information and to apply for the role, emai: RPearson@mocofoodservices.com.au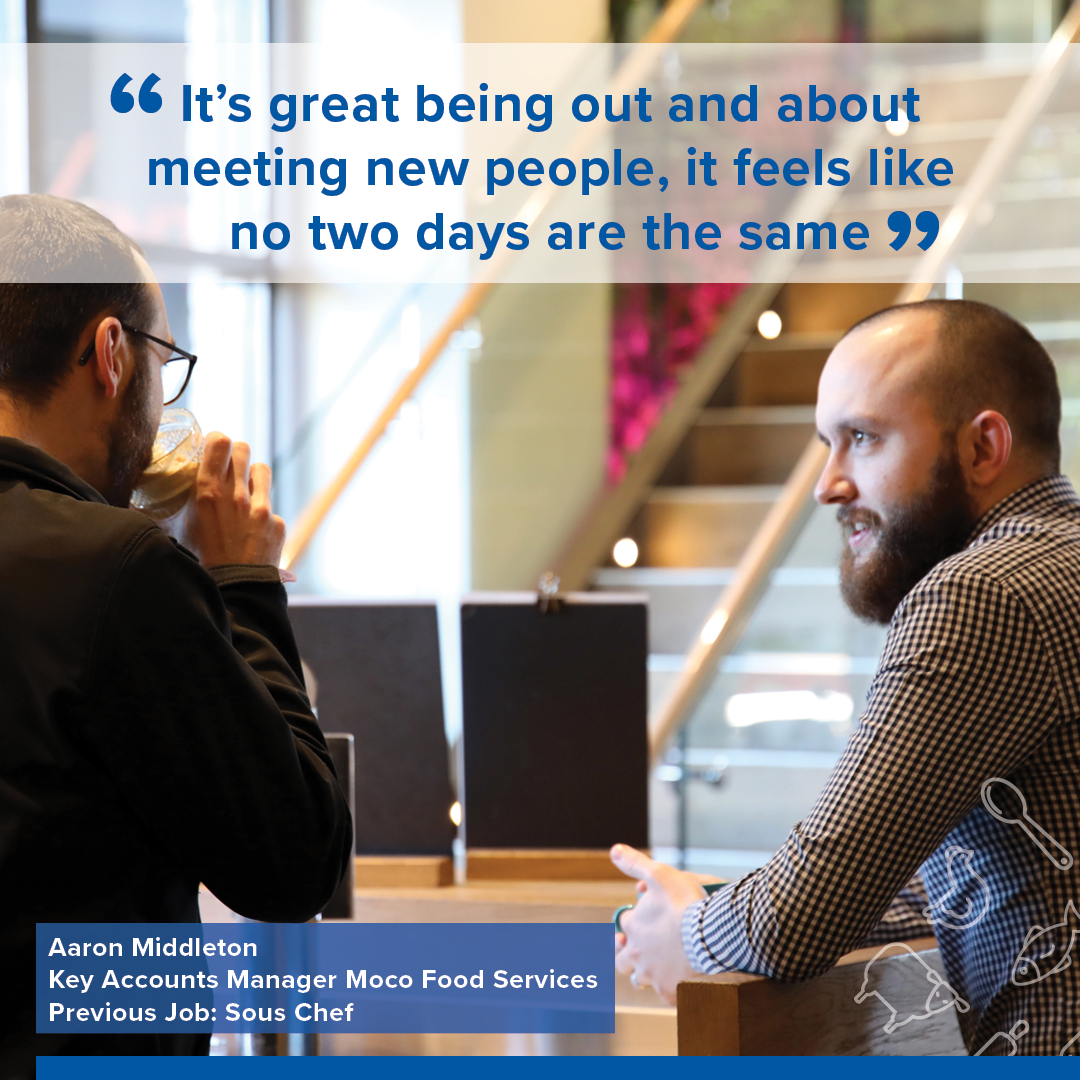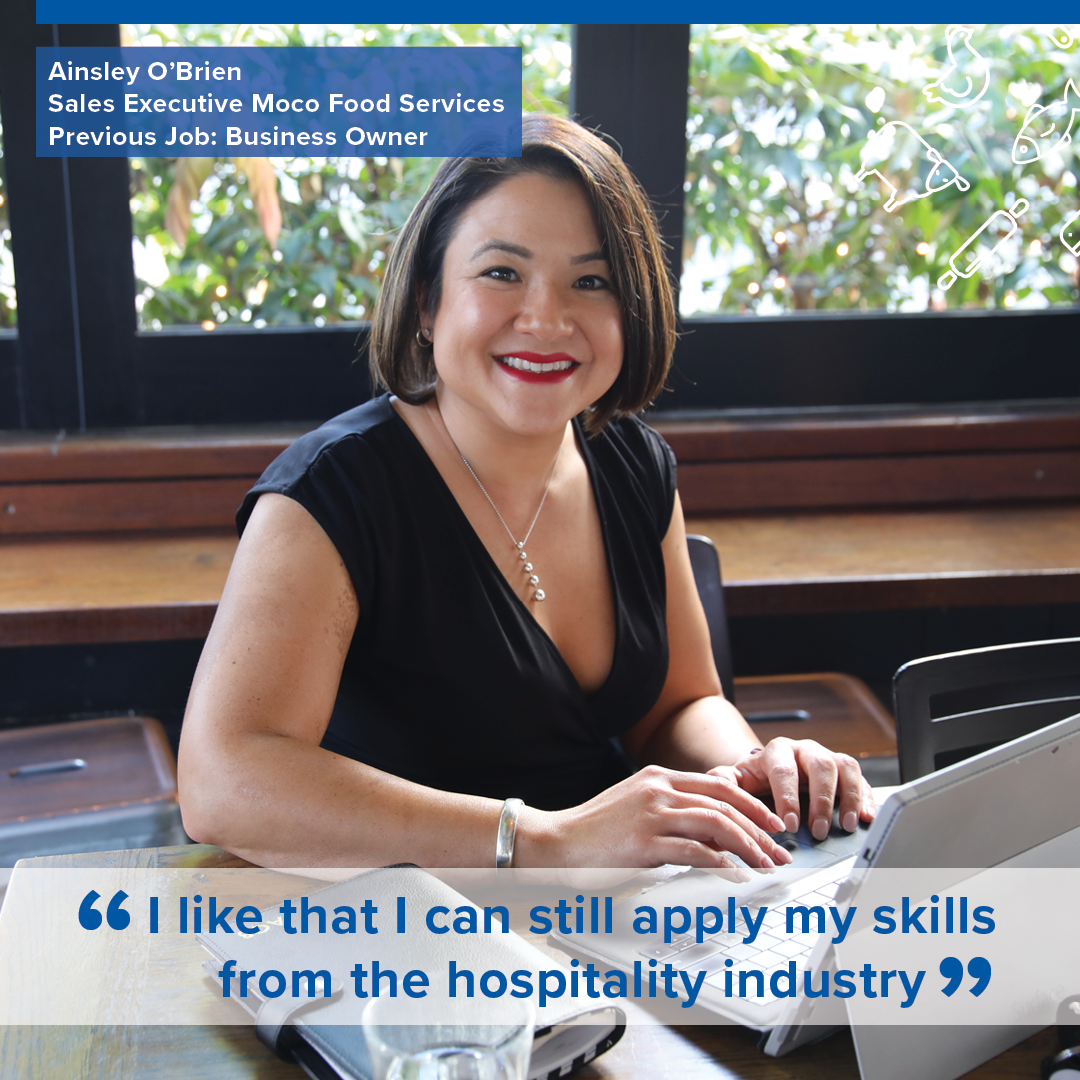 Meaningful Relationships. Striving for growth.
Our field force is growing.
Our sales team works collaboratively with our protein team to deliver meaningful service and support to our customers every step of the way.
Where will your career take you?
See current vacancies
Meat Sales Specialist
A rare opportunity to bring your passion for Protein to life!
You are savvy when it comes to all things centre of plate and have the technical knowledge to recommend products to best suit customer menus.
Relationships are key when it comes to working collaboratively with the new business and sales teams, as well as independently in customer consultations. Integrity and accuracy go hand-in-hand with your role as a specialist.
Sales Executive
You're a people person, ready to build high quality relationships.
Get set for success when you run your own territory with the support of Moco's world-class eCommerce ordering system.
You'll control product pricing and identify opportunities with information easily available at your fingertips.
Business Development Manager
You understand what good business looks like.
Always on the hunt for like-minded restaurants, pubs, clubs, cafes and caterers ready for more convenience from a food service distributor.
You think outside the square with opportunities and welcome customers to the Moco brand with excellent service and administrative support.
Positions Available
Express interest in being contacted for future opportunities:
Sales
Business Development
Meat / Seafood Specialist
Warehouse
Delivery Drivers
Butchers
Customer Service
Finance
eCommerce / Marketing
Procurement
General Enquiries
location_on PO Box 3076
Mt Ommaney QLD 4074
Australia
---
Careers that deliver more
Hungry for More? We're always looking for new additions to our dynamic team.
Join a growing organisation where ambition, a value-led culture and industry leading business systems are the ingredients to your new career path.
With over 50 years' experience in Food Service distribution, Moco is at the forefront of industry innovation - and there is plenty more to come!
more
Committed
We take pride in our service and are devoted to exceeding our customers' expectations
more
Collaborative
Join the team with a "can do" attitude, where we actively promote good morale and the Moco spirit
more
Connected
We are passionate about pursuing our goals with focus and energy. Join the team that strives for long term shared prosperity in a dynamic industry.